We offer a range of proven turnkey solutions, providing a hassle-free experience for industrial customers
"Bin picking", in robotics, is the process of taking pieces out of a disordered state in order to grasp and organize them at another location. So bin picking involves locating and retrieving a part from a volume that contains many others, through the joint action of a robotic arm controlled by one or more sensors or systems (such as vision, vibratory bowl, or feeder). 
Bin picking can be done at the beginning of a production line (such as a box of parts), in the processes (where it allows a pick-and-place operation from the downstream process), or at the end of line (such as for packaging products, palletization).
Our bin picking solution with robots offer to pick up items directly from bins or containers. The turnkey solution allows to take parts, with a robot equipped with one sensor, no matter if the input packaging is a pallet or a bin. 
Automated bin picking provide significant advantages, including faster processing times, lower costs, higher accuracy, and improved safety. 
To tailor our solution to your needs, we assemble your turnkey solution by carefully selecting the most suitable elements from our network of partner robots, sensors, and technologies.
Optimises or even reduces packaging by reducing the amount of empty space transported
Reduces buffer stock (if the unjumbling serves as a supply to a process)
Eliminates custom mechanization
Saves time when feeding a machine
Increases autonomy when the automated line can be kept supplied with parts for a long time before an operator call
Increases flexibility, in particulary during changeovers of new parts
Decreases musculoskeletal disorders associated with repetitive, sometimes heavy, manual handling
Reduces low-value added operations (such as restocking, loading trays, etc.).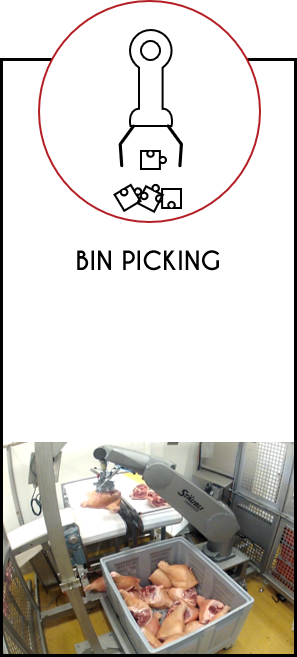 Don't see your specific needs among our six use cases?
No problem.
With several hundred systems currently in operation, we have a proven track record of developing 100% custom solutions that address the unique needs of our clients.