We offer a range of proven turnkey solutions, providing a hassle-free experience for industrial customers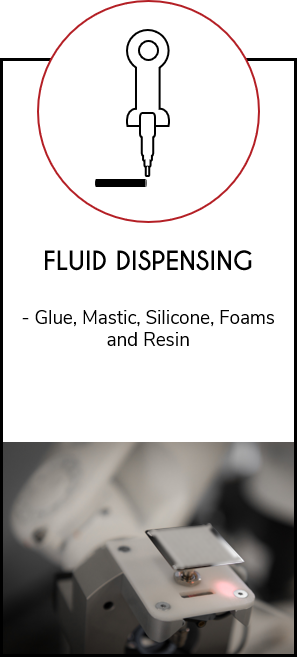 Turnkey solutions for robotic fluid dispensing are designed to improve efficiency and precision in manufacturing processes. Our systems are fully automated, allowing consistent and repeatable results, and are customizable to fit the needs of your specific application.
With our robotic fluid dispensing solutions, you can save time, reduce waste, and increase overall productivity:
Potting
GapFiller
Bonding / Beading
To tailor our solution to your needs, we assemble your turnkey solution by carefully selecting the most suitable elements from our network of partner robots, sensors, and technologies.

Don't see your specific needs among our six use cases?
No problem.
With several hundred systems currently in operation, we have a proven track record of developing 100% custom solutions that address the unique needs of our clients.